Schedule a Windshield Repair Appointment

Our windshield repair appointment form is a quick and simple tool to help you receive fast and convenient service.  Complete our request form below and you can schedule your preferred appointment and view our prices.  If your damage is larger than 1.25 inch in diameter, we will need a photo sent to us. Please see photo instructions below and then call us so we can determine if we can repair your damage.
Mobile windshield repair appointment are scheduled by time slots. (weather permitting). Technician will call to confirm your appointment.
Average repair time = 20 minutes.
---
Mobile Users: Appointment form is viewed better from a landscape view.
---
Photo sending instructions:


Best way to take photos of windshield damage to send inspection:
Make sure the damage is dry.  If rain or a car wash was recent - face windshield into direct sunlight for 1 hour.  Then tape white paper (such as the back of a business card) on the inside directly behind the damage and take the picture from the outside. 
Placing any coin next to the break will help your camera to focus and provide us with scale.
Just give us a call and we can give you the proper text or email address.
---

Tips for successful windshield repair appointments: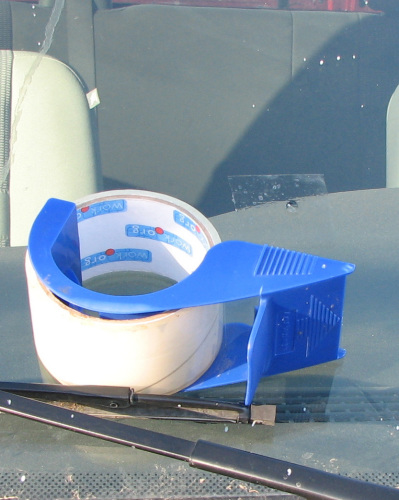 Do not apply nail polish, crazy glue etc. and avoid a car wash until the repair is complete.
If your appointment is set in the afternoon but rain is expected in the morning:  You can cover the damaged area, before your windshield gets wet.  Take a piece of clear packaging tape (not duck tape or scotch tape) clear off any dust on and around the damage and glass so the tape will adhere using a dry clean cloth and lay the tape flat (no wrinkles) over the chip.  This should keep the chip dry, block out contaminants and allow you to use your wipers.
If a passing rain cloud comes by and leaves before your appointment time frame or if the windshield was wet from the night before.  We can still complete your repair as we have equipment that will dry the damage before we repair it. (If the rain has stopped before your appointment)  However, we do prefer to have the sun naturally evaporate any moisture that will be in the break.  Therefore after the rain departs it would be helpful to face your windshield into the sun. If the rain turns more persistent we will probably need to reschedule as we are unable to provide a good repair in any participation (rain, snow, sleet, sprinkles. etc.) unless you have a garage or carport.
---